Speaker Profiles
Opening session speakers
Mrs Patricia Reilly
Patricia Reilly is Head of Cabinet for Commissioner Mairéad McGuinness, EU Commissioner for Financial Services, Financial Stability & Capital Markets Union. She was previously the Deputy Chief Veterinary Officer in the Department of Agriculture, Food and the Marine where she led five departmental policy divisions on areas including food safety and food authenticity, veterinary medicines and residues, anti-microbial resistance, animal health and welfare, TSEs and animal by-products. Mrs. Reilly has extensive experience across the European Commission starting in the Cabinet of Commissioner Máire Geoghegan-Quinn in Research, Innovation & Science. She then served as a Cabinet Expert focused on the Joint Research Centre (JRC) and the European Institute for Innovation and Technology. From 2016 to 2019 she was Deputy Head of Cabinet for Commissioner Tibor Navracsics in Education, Culture, Youth, Sport & the JRC, and later became Advisor to the Director General of the JRC. Mrs Reilly is Chair of the Governance Committee of BiOrbic and on the Board of the Tyndall National Institute. She holds degrees in veterinary medicine, law, and European Food Regulatory Affairs.
Peter Handley
Peter Handley is an EU official, currently heading the team on energy-intensive industries, raw materials and hydrogen at the European Commission's Directorate-General for Internal Market, Industry, Entrepreneurship and SMEs. Previously, head of policy coordination for Energy Union, 2030 climate and energy package, low emission mobility strategy and the circular economy at the Secretariat General. Past EU trade negotiator (steel, WTO market access and industrial tariffs). Former UK government official, coordinated UK preparations for 1992 UN Conference on Environment and Development (UNCED). Graduated in French and Politics from the University of Bristol. Studied at France's Ecole Nationale d'Administration (ENA).
Prof. Murray Hitzman
Murray W. Hitzman is Director of iCRAG and a Science Foundation Ireland Research Professor. Murray has B.A. degrees in geology and anthropology from Dartmouth College, an M.S. in geology from University of Washington, and a Ph.D. in geology from Stanford University. He worked in the petroleum and minerals industries from 1976 to 1993 primarily doing mineral exploration worldwide. Dr. Hitzman then served in Washington, D.C., as a policy analyst in the U.S. Senate for Senator Joseph Lieberman and in the White House Office of Science and Technology Policy. In 1996 he was named the Fogarty Professor in Economic Geology at the Colorado School of Mines (CSM) and served as head of the Department of Geology and Geological Engineering from 2002-07. In 2016 he joined the U.S. Geological Survey as the Associate Director for Energy and Minerals and served until late December 2017. He joined UCD and iCRAG in 2018.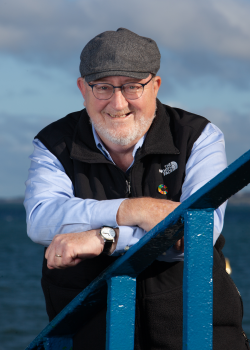 Prof. Yvonne Buckley
Professor Yvonne Buckley is the Professor of Zoology at Trinity College Dublin, a Member of the Royal Irish Academy and Academia Europaea, an Irish Research Council Laureate and was awarded the British Ecological Society President's medal (2021) and BES award (2022). She has highly cited papers in ecology, zoology, botany and agricultural sciences. Prof. Buckley is an ecologist with expertise in environmental decision making, natural capital management and population ecology. She co-directs Nature+, the Trinity Centre for Biodiversity and Sustainable Nature-based Solutions. She leads a team of researchers and students seeking to understand the fundamental drivers of animal and plant population processes in a rapidly changing world. She uses these discoveries to provide support for environmental decisions in the areas of biodiversity conservation, invasive species management, climate change and habitat restoration. She was the founding President of a learned society for ecologists in Ireland, the Irish Ecological Association, served as chair of the National Biodiversity Forum, providing advice to government on biodiversity strategy (2015-2021) and is a co-Chair of the All Island Climate and Biodiversity Research Network. She is a monthly science columnist for the Irish Times.
Economy session speakers:
Dr Kara English

Dr Kara English is an Assistant Professor of Sedimentology, a funded investigator with iCRAG and Lead of the Sustainable GeoEnergy Research Group at UCD. Kara has been involved in the energy sector for over 20 years, in industry, government and academic roles. Current research focuses on geological applications for the energy transition including geothermal energy and geological storage.
Dr Aline Melo
Aline Melo is a geologist and geophysicist passionate about closing the gap between geophysical tools and geological challenges. Her main research focus is on integrated quantitative interpretation of multi-physics data for unveiling geology at depth using petrophysics, inverse theory, and artificial intelligence. She has a B.Sc. degree in geology from University of Brasilia, Brazil, (2008), an M.Sc. in geophysics from the same university (2012), and a Ph.D. in geophysics from Colorado School of Mines (2018). Before joining UCD she was an assistant professor of geophysics at Universidade Federal de Minas Gerais (UFMG) in Brazil and prior to that, she worked as a geophysicist in the mineral exploration team of the mining company Vale S.A.
Dr Richard Unitt
Richard is a Research Fellow, based in the School of Biological, Earth and Environmental Sciences, UCC, currently specialising in stone aggregate research. Richard has worked in both academia and industry over the past 30 years dealing mainly with civil engineering, quarrying, and mining projects.
Dr John Fitzgerald
John FitzGerald is an honorary fellow and adjunct professor of economics at Trinity College Dublin, a Research Affiliate at the Economic and Social Research Institute, and a Member of the Royal Irish Academy.
Dr Sarah Blake
Dr Sarah Blake is a hydrogeologist and Senior Geologist with Geological Survey Ireland where she is Head of the Geothermal Programme.
Margie McCarthy
Margie is SEAI's Director of Research and Policy Insights, with key responsibilities for analytical and research functions within SEAI including the development and delivery of energy data and insights to support policy decisions, and investment in innovative energy research which contribute to Ireland's energy transition. As a member of the Executive Leadership Team of SEAI Margie contributes to the development and implementation of organisational strategy and operationalising that strategy for optimal delivery of results.

Margie is a Chartered Engineer and Fellow of Engineers Ireland. She joined SEAI from Science Foundation Ireland (SFI), where she served as Head of Education and Public Engagement and as Interim Director of Science for Society. Margie has served on several national education and skills policy groups and is currently Chairperson of the Gender Balance in STEM Education Advisory Group to the Department of Education.
Martina Hennessy
Martina Hennessy is a Principal Officer in the Department of the Environment, Climate and Communications (DECC) in Ireland, heading up one of the policy divisions leading the development of Offshore Renewable Energy. The role encompasses development of a new regulatory framework for the sector, in addition to integrated spatial planning which will be important in setting out the pathway for the State to transition to a plan-led approach for ORE. Martina joined the civil service in 2016, moving to DECC in 2019, initially working in the petroleum sector. Prior to this, she worked in a range of policy, data, project and change management roles across both private and public sectors.
Sean Finlay
Sean Finlay is a Professional Geologist and a Chartered Engineer. He has over 40 years' experience in mineral exploration, mining and infrastructure development in Ireland, Africa and the FSU. He is currently a director of Geoscience Ireland, a network of 35 companies which deliver design and construction services for mineral resources, energy, water and infrastructure projects in over 50 countries.
Environment Session Speakers
Prof. Jenny McElwain
Jennifer (Jenny) McElwain holds the 1711 Chair of Botany at Trinity College Dublin's School of Natural Sciences. She is currently the Head of Botany within the School. Over the past 20 years her research and teaching have focused on the development and use of palaeobotanical methods (proxies) that use fossil plants to reconstruct the evolution of Earth's atmospheric composition and climate on multimillion year timescales. Her research team use both fossil plants and modern experimentation to investigate how fluctuations in atmospheric composition and climate have influenced plant evolution and ecology throughout Earth history. Her research programme has been successfully funded through both national and international grants and awards including Science Foundation Ireland, Irish Research Council, European Research Council, US National Science Foundation, National Geographic and Marie Curie. She was elected a Member of the Royal Irish Academy in June 2017 and awarded for Excellence in EU research by the President of Ireland in 2012. She has published over 100 internationally peer reviewed publication and two editions of a well-regarded textbook The Evolution of Plants, Oxford University Press. She is a board member of the Mary Robinson Foundation for Climate Justice and a member of the Royal Irish Academy Committee on Climate Change and Environmental Science. Before joining TCD in 2017, she was an Associate Professor/Professor at University College Dublin for 11 years, a curator of fossil plants at the Field Museum of Natural History in Chicago (2000-2006) and post-doctoral researcher at the University of Sheffield, UK (2003-2006). She graduated from Trinity College Dublin with a BA Botany in 1993 and from Royal Holloway University of London with a PhD in 1997.
Dr Audrey Morley
Dr Morley is a lecturer in Physical Geography at the University of Galway, and is affiliated with iCRAG, the Ryan Institute, and the PRU. In addition, she is the President of the Network of Arctic Researchers in Ireland (NARI) and the Director of the BSc Programme in Geography and Geosystems. Dr Morley's central research objective is to assess large-scale ocean-atmosphere climate dynamics during past warm climates to improve our understanding of future climate change. To address this objective her research agenda concentrates on two avenues: (1) Refining techniques in palaeoceanography to provide more reliable reconstructions of the extent and magnitude of past changes in climate, and (2) Applying a multiproxy approach to past climate reconstructions, including isotope and trace metal geochemistry, foraminiferal assemblage counts, and the analysis of marine sediments.
Dr Saté Ahmad
Saté Ahmad is a Senior Research Fellow (in Ecohydrology) based at the Departments of Botany and Civil, Structural & Environmental Engineering. His main interest lies in quantifying ecosystem processes and understanding how they may be affected by human activities.
Saté's current research aims at investigating the impact of elevated CO2 and past vegetation changes on evapotranspiration and streamflow in Irish catchments. Additionally, he is responsible for coordinating and managing the Earth System Change research programme within the SFI Research Centre in Applied Geosciences (iCRAG). His previous postdoctoral research involved mapping the risk of subsurface dissolved nutrient export from coastal subcatchments of North Eastern Germany into the southern Baltic Sea. He also has experience in investigating how fen peatland restoration and management measures (eg: rewetting, mowing, tree removal) impact soil properties, vegetation development and diversity, evapotranspiration, and hydrological functioning.
Dr Haleh Karbala Ali
My background is in petroleum engineering. In my Ph.D. dissertation, I developed a new methodology to automatically detect paleochannels in 3D seismic data based on shearlet transform. Prior to joining DIAS in 2019, I worked as a seismic data interpreter in National Iranian Oil Company. Increased awareness of the adverse effect of fossil fuels in global warming and climate change I changed my field of study to near-surface geophysics. During my postdoctoral research in DIAS funded by iCRAG, I worked on developing novel algorithms where for the first time we could successfully locate the flowing conduits in karst based on passive seismic approach.
Dr Eoghan Holohan
Eoghan graduated from Trinity College Dublin (TCD) with a B.A. in Natural Science (2002), a Diploma in Statistics (2004), and a PhD in Geology (2008). He spent one year (2006-7) as an Assistant Lecturer in structural geology in University College Dublin (UCD), and then joined the Fault Analysis Group on a IRCSET-funded post-doctoral fellowship in 2007-2009. Eoghan then won an IRCSET-Marie Curie INSPIRE international mobility fellowship (2009-2012) that facilitated a collaborative research project based at both UCD and the German Research Centre for Geosciences (GFZ) in Potsdam, Germany. He subsequently took up a research scientist position at GFZ Potsdam (2012-2015), before re-joining UCD in 2016 as a College Lecturer in structural geology and tectonics. Since July 2017, Eoghan is an Associate Professor of Earth Sciences.
Dr Omid Saremi
Omid is a Research Engineer at University College Dublin under the supervision of Prof. Niall English. He graduated from University of Tehran in 2014 and worked as a mechanical engineer and production manager in several companies in Iran. He joined UCD in 2021 and start working on nanobubbles, designing and prototyping nanobubble generators for gas purification and some other applications. He joined iCRAG in May 2022 to continue his research on the application of nanobubbles and gas hydrates.
His current project is focused on water /wastewater treatment by using gas hydrates and investigating the effects of nanobubbles on hydrate formation kinetics and thermodynamic properties.
Prof. Frank McDermott
Frank is Professor of Geochemistry and Director of the National Centre for Isotope Geochemistry (NCIG) at University College Dublin. He is a geochemist with broad interests in aqueous and low-temperature geochemistry, weathering, the aqueous carbonate system, isotope geology and palaeoclimatology. His current applied research focuses on: (i) microbial and enzyme-induced carbonate precipitation in soils for ground-strengthening applications in geotechnical engineering and (ii) accelerated weathering of natural and anthropogenic silicate and hydroxide minerals that can sequester carbon dioxide when added as amendments to agricultural soils.
Society Session Speakers:
Elspeth Sinclair
Elspeth Sinclair manages two public engagement programmes: Earth Science Education and Geocareers in iCRAG, including Girls into Geoscience Ireland. Elspeth is an experienced science communicator, with a passion for promoting women in science and works closely with the Responsible Decision Making in geosciences research area as part of her role.
Hannah Binner
Hannah Binner is a PhD researcher in Environmental Geochemistry entering the final year of her PhD. Her research, funded through iCRAG and the GSI, focusses on quantifying metals in urban soils and identifying metal bioavailability. Hannah graduated with a BSc Hons in Environmental Science in 2018 from University College Cork (UCC), followed by a one-year MSc (Res) in Environmental Science at UCC. Hannah is also currently the co-chair of the iCRAG Equity, Diversity and Inclusion (EDI) committee.
Dr Aileen Doran
Aileen's research will involve investigating hydrothermal fluid flow in Irish Zn-Pb deposits through clumped C-O isotope analysis of carbonates and Zn-Cu-S isotope analysis of sphalerite. Part of this research will involve determining how these techniques may be used in geochemical exploration to vector towards orebodies.
Prof. Peter Croot
Prof. Peter Croot is the Established Professor of Earth and Ocean Sciences at the University of Galway in Ireland. A marine biogeochemist, focused on understanding the role of biogeochemical and physical processes on the concentration and distribution of trace elements and chemical species in the ocean. Dr Croot has extensive at sea experience in the Tropical Atlantic and Pacific and in the iron limited Southern Ocean (Participating in 4 iron enrichment experiments). A co-PI in the SFI research centre iCRAG and an active collaborator in the marine biogeochemical community through participation in SCOR related international programs: GEOTRACES, IMBER, GO-SHIP and SOLAS. In April 2017 he was the Chief Scientist for the A02 GO-SHIP repeat hydrography survey in the North Atlantic, this marked the first time that an Irish research vessel had undertaken an international hydrographic survey. He was the convening author of the Open Ocean chapter in the 2nd UN World Ocean Assessment.
Closing Panel Speakers
Koen Verbruggen

Koen Verbruggen is the Director of Geological Survey Ireland, responsible for delivering on its Business Plan particularly in the context of development of strategy. He also has direct responsibility for Geological Survey Ireland corporate governance and overall activity. He is the Irish geoscience representative on national and international fora and committees.
Dr Marie Cowan
Dr Cowan is a Science Director with the British Geological Survey (BGS) and Director at its Belfast office, the Geological Survey of Northern Ireland (GSNI). GSNI is an office of the Department for the Economy (DfE) in Northern Ireland (NI) whose scientists undertake research to advise and support the geoscience responsibilities of NI government departments, Invest NI, councils. GSNI also collaborates closely on research with the Geological Survey of Ireland (GSI) and universities.
Dr Deirdre Lewis
Dr Deirdre Lewis (PGeo EurGeol) is a Technical Director of SLR Consulting and professional geoscientist with more than 25 years of experience in development of natural resources internationally. She has managed exploration and feasibility projects in Ireland, Europe, Australia, Brazil, Mongolia and throughout Africa. Additionally, she has managed a range of multi-disciplinary projects for EU, UN and World Bank in developing countries to build institutional capacity in sustainable resources management, particularly in sub-Saharan and West Africa. Deirdre has particular expertise in the specific challenges facing artisanal mining communities, including access to training, finance, gender equality and the environment.
Dr Mary Frances Rochford
Dr Mary Frances Rochford is Programme Manager, Climate Change, in the Environmental Protection Agency.